---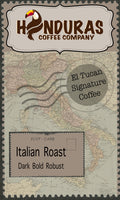 Great coffee
Just tasted like the coffee from Honduras.
Delicious!! Strong the way I drink my coffee.
Best Coffee Ever
After a trip to Italy three years ago, I came home wanting to enjoy a great cup of coffee every morning as I did in Italy. I purchased a De'Longhi machine, but couldn't find the right coffee beans until I ordered from Honduras Coffee Company. I love the Italian Roast! As it is described on the bag, Dark, Bold Robust!
Excellent
Best coffee around, hands down. Rich and full flavored
Best coffee EVER!!!!
Holy cow... a fan for life! I have a Cuisinart grind and brew programed every morning for 730am... the aroma comes up the steps and boom I'm in heaven! Lol
Roasted Dark A smooth dark bold roast.