---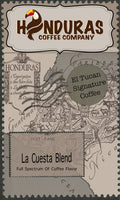 Always delicious
I have been ordering and enjoying your coffee for years and still love the freshness and high quality!!!!
We love your coffee!
Thank you for providing this delicious blend to us here in the US. There is nothing like the rich, chocolate flavors of Central American coffees... and the freshness and quality you present is beyond wonderful! A great combination of product and customer service, Honduras Coffee Company rocks!
Love Honduran coffee, been there
I started drinking Honduran coffee when I was there in the military. I spent a total of two years there and let me tell you, they know they're coffee. It's awesome. Coming home I was left with a void because I hate Starbucks, it's too bitter and after Honduras, Dunkin Donuts wasn't the same. Just didn't seem to be any flavor. I've now been drinking this "Honduras Coffee Company" for 7 years. Not sure why I haven't written a review but i love their coffee. It may be a bit pricier than some but this is comparable to Blue Bottle coffee which is even pricier although we still buy some of it. Some of the names have changed over the years but Curt's blend, Espresso, and La Cuesta are our staples. We're not fu fu coffee drinkers. We like it strong but not bitter and this company still delivers, after 7 years which is saying something in todays economy
A full spectrum of coffee flavors