---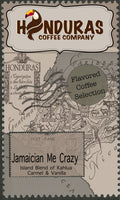 Coffee
We have been buying this flavor for 2-3 years however this last batch we got we had to throw away unfortunately ( two packages) because it did not taste the same. I did reach out to the lenders in regards and they did respond back in a timely manner as well. We will try again for the flavor but are waiting for a month or so to see if the batch changes or if the wrong thing was packaged incorrectly by mistake.
BEST COFFEE
I'm absolutely in love with this coffee! 😍 I'm crazy for Jamaican me crazy!
Love this coffee
Since I started purchasing from Honduras coffee company, I have stopped buying coffee from other stores, including fancy coffee shops. This coffee cannot be beat!
Amazing!!
We have been drinking this for several years now. It's our favorite!! I drink strong black coffee so it has to taste good and not be bitter or acidic. Jamaican me crazy fits the bill!!!
An island blend of Kahlua Caramel & Vanilla