---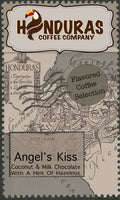 So so good!
We love the aroma of your coffee in the morning. I set our coffee maker for 5 AM and by the time I get up at 5:30….The whole house is filled with the wonderful smell of your coffee! And the taste is so…so…good!
Angels' Kiss
Delicious, smooth flavor with a hint of coconut and caramel! A family favorite
One of my favorites!
Just the right bend of the flavors, bold, smooth and taste like heaven.
Great flavor!
My new favorite coffee to brew at home. Great flavors, fast shipping and overall a great "small town" company!
Have enjoyed your products in the past, still love it all. I don't like the no tie off bags though to keep it fresh.
Coconut &milk Chocolate with a hint of hazelnut