---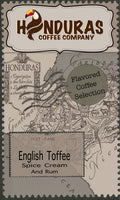 Loved
Bought this coffee ground from your store. It was so smooth and I loved the flavor. No bitterness which is always a problem with most coffee. Will buy again! Loved the bag with no dyes. Also going to try some others. Thanks for such a superior product!
Great coffee!!! Because of food allergies store bought coffee is impossible to enjoy. This coffee is perfect for enjoyment!!! Thank you! It is a coffee that did not give the side effects like the store bought coffees!
Ok
Not as good as the others. I dont like new bags either.
Spiced Cream & rum!