---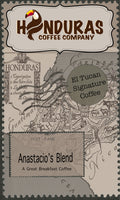 Very smooth no bitter taste.
Best coffee...
Have been using Anastasia's Blend for 10+ years until the place I bought from began to use another company. I am delighted to find your online store and learn it is the exact same blend! My order was delivered the next day. Thank you, Thank you!! I will order again!
Fantastic
I consider myself a coffee snob, in a good way. I love my coffee but not just any coffee. Anastacio's Blend meets my criteria of a darker roast that is not at all acidy or bitter with a depth of flavor that is just right. I order two bags at a time to insure that I do not run out. Try it and I believe this will become your go to favorite as well.
We love the Anastasio's coffee! We purchase it every time we visit Stuart and Honduras!!
I have been ordering this blend for the past three years. Great blend:-) As Goldilocks would say, "just right".
A GREAT breakfast coffee!!!! AKA Grandpa's Blend