---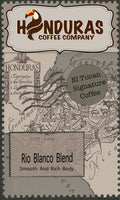 Smooth Cup
Trying this again after using Full City for awhile. It's nice and smooth.
"El-Tucan Signature"
Very attractive smell with a soothing taste of excellence!
Best coffee
Starbucks is sludge compared to this coffee. Once you try this cup, no other coffee will ever taste half as good.
Great coffee
Rio Blanco blend is our favorite from Honduras Coffee Company, however all blends are great! Best coffee I have ever tried. Everyone that tries it agree.
Smooth & Rich with body to spare.