---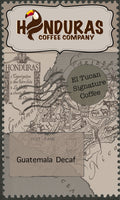 It's been 20 years since I 1st ordered!
And it's still as good as it ever was.
We even started selling it to fund our short-term mission trips to Honduras and Nicaragua.
Still family owned as well as I understand it.
Honduras Coffee Order
Due to reflux, I need lower acid coffee So far, the Italian Roast is doing great for me. Your decaf is quite tasty. I'm definitely a returning customer.
Simply good!
Tastes great and keeps my heart steady with less caffeine!
Customer since 2013
I was in Honduras on two mission trips to build water treatment plants for villages and brought back some Honduran coffee for my wife (I am not a coffee drinker). She loved it! Went that ran out I looked on line and found Honduras Coffee Company and ordered some full roast whole bean and my wife liked it every bit as well as what I had brought back from Honduras. We have been buying it for years now and recently she switched to decaf. Again the Guatemala decaf has much better flavor than anything she can find locally in Alabama.
We had an issue with accidentally ordering the wrong product when we switched to decaf and after a quick phone call, Mitchell made everything right!
Thanks for the great service and product, Mitchell!
Stu
Great coffee!
Great coffee! Pleased every time.
Swiss Water Process... Delicious, Doesn't taste like decaf